50 Inspirational Saturday Morning Quotes for An Awesome Day
|
Looking for positive Saturday morning quotes for an awesome day? We have got you the top Saturday Morning quotes, sayings, wishes, captions (with images and pictures) to send some positive vibes early morning.

Also See: Funny Saturday Quotes and Sayings 

Weekends are the most awaited days for everyone! Time to chill and relax with friends and family after a long tiring week. Saturday Mornings and Saturday Nights are the best for everyone! Sharing some inspirational and beautiful Saturday Morning Quotes for everyone to share with friends and family.
30-50 Inspirational Saturday Morning Quotes
"Saturday is all about good vibes."


---

"Dear Saturday, you are my favorite."


---

"Saturday is a good day to have a good day."


---

"I really need a day between Saturday and Sunday."


---

"May Saturday be a day of happiness, peace and love."


---

"It's Saturday. I plan on doing nothing and plenty of it."


---

"Have a joyful Saturday. Do things that makes you happy."


---

"It's Saturday may it brings you lots of love and lots of cheer."


---

"Better days are coming. They're called Saturday and Sunday."


---

"Saturday shines when we let our positive attitude shine through."


---

"It's hard to nap on Saturday or the weekends." – Scott Eastwood


---

"Every man has a right to a Saturday night bath." – Lyndon B. Johnson


---

"Saturday is what gives us a weekend of enjoyment." – Anthony T. Hincks


---

"On Saturdays, we wear pajamas, crawl under a big blanket and watch movies."


---

"My work is like my vacation, so in a way every day is like Saturday." – Ludacris


---

"Saturday is here; give it a warm welcome by allowing yourself a lovely day of rest."


---

"This Saturday don't miss the sun today worrying about the rain coming tomorrow."


---

"Happiness is not having to set the alarm for the next day. That's why I love Saturday."


---

"Nothing will be wrong; everything will be right. Let Saturday will remind that to you."


---

"Life is a wretched gray Saturday, but it has to be lived through." – Anthony Burgess


---

"Saturday morning, you knew what was cool by what was on 'Soul Train.'" – Nick Cannon


---

"Saturday is a day for the spa. Relax, indulge, enjoy, and love yourself, too." – Ana Monnar


---

"I wish that every day was Saturday and every month was October." – Charmaine J. Forde


---

"I told myself that I was going to live the rest of my life as if it were Saturday." – Chip Gaines


---

"Oh, my sweet Saturday, I have been waiting for you for six long days." – Charmaine J. Forde


---

"On Saturday morning, I like to get up early and go out – TV is banned!" – Debra Stephenson


---

"I'm going to use what little energy I have today to breathe and maybe blink. Saturday is about it."


---

"When you rise in the Saturday morning, give thanks for the light, for your life, for your strength."


---

"Make the most of this day! Laugh, love, read, live, love, learns, play dream just be happy Saturday!"


---

"Your Monday is not going to be like Saturday; the emotions are going to be different." – Jean Grae


---

"Weekends don't count unless you spend them doing something completely pointless." – Bill Watterson


---

"My favorite way to spend Saturday is in and out of bed, watching sports on TV and eating." – Alan King


---

"Welcome this morning with a smile! Happy Saturday! If you don't have a smile, I'll give you one of mine."


---

"Spend a day doing nothing: Let your mind wander; Let nature entertain you; Let stress go. Enjoy Saturday."


---

"My folks always let me go to the movies every Saturday. We were really motion-picture goers." – John Wayne


---

"Happy Saturday! 'Study nature, love nature, stay close to nature. It will never fail you.'" – Frank Lloyd Wright


---

"I always wake up early Saturday morning, and I have a little bit more time, so I go to the gym." – Ehud Olmert


---

"We need the spirit of Sunday carried over to Monday and continued until Saturday." – Edward McKendree Bounds


---

"On the Sixth Day, God created man, the sort of result you often get when you go in to work on a Saturday." – Robert Brault


---

"If you had to work 14-hour days, Mondays to Fridays, then you have to keep Saturdays and Sundays sacred." – Nicole Ari Parker


---

"Middle age is when you're sitting at home on a Saturday night and the telephone rings and you hope it isn't for you." – Ogden Nash


---

"Weekends are a bit like rainbows; they look good from a distance but disappear when you get up close to them." – John Shirley


---

"Saturday mornings, I've learned, are a great opportunity for kids to sneak into your bed, fall back asleep, and kick you in the face." – Dan Pearce


---

"Your body tells you what it needs, and if you sleep past your alarm on a Saturday morning, it's probably because you need the sleep." – Sophia Bush


---

"On a lazy Saturday morning when you're lying in bed, drifting in and out of sleep, there is a space where fantasy and reality become one." – Lynn Johnston


---

"I miss Saturday morning, rolling out of bed, not shaving, getting into my car with my girls, driving to the supermarket, squeezing the fruit, getting my car washed, taking walks." – Barack Obama


---

"I've taken Saturdays to be the day I pull back completely. I do things that are more creative, and I've actually found that helps me when I get back into work to be more thoughtful." – Padmasree Warrior


---

"There was nothing like a Saturday – unless it was the Saturday leading up to the last week of school and into summer vacation. That of course was all the Saturdays of your life rolled into one big shiny ball." – Nora Roberts


---

"Happy Saturday! When you rise in the morning, give thanks for the light, for your life, for your strength. Give thanks for your food and for the joy of living. If you see no reason to give thanks, the fault lies in yourself." – Tecumseh


---

"It's not that we spend five days looking forward to just two. It's that most people do what they enjoy most on those two days. Imagine living a life where every day are your Saturdays and Sundays. Make every day your weekend. Make every day a play-day." – James A. Murphy


---
Beautiful Saturday Morning Quotes with Pictures and Images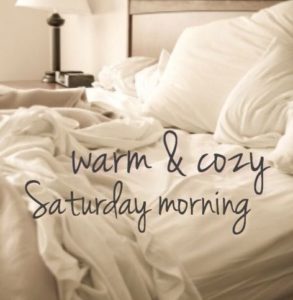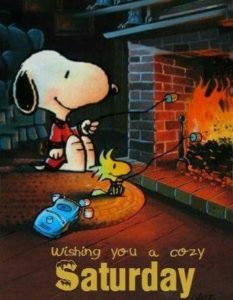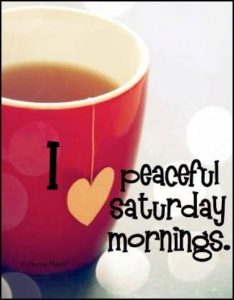 Positive Quotes about Saturday for Facebook, Twitter, Pinterest