31 Famous Inspirational Dr. Seuss Quotes
|
Dr. Seuss-a whimsical writer who inspired all to live a simple and worthy life! Get a grip on your life with these 31 Famous Inspirational Dr. Seuss Quotes! His books, quotes, and thoughts are the pearl of wisdom which inspired people and made a positive difference in their life.
Collection of Best Quotes by Dr.Seuss
"You have to be odd to be number one"
---
"Why fit in when you were born to stand out!"
---
"Be who you are and say what you feel,
because those who mind don't matter and those who matter don't mind."
---
"Always remember you are braver than you believe
Stronger than you seem,
Smarter than you think  & twice as beautiful  as you've ever imagined."
---
Dr.Seuss Book Quotes
"Fill your house with stacks of books, in all crannies and all the nooks."
---
"The more that you read, The more things you will know.
The more things you will know. The more that you learn the more places you'll go."
---
"Preachers in pulpits talked about what a great message is in the book. No matter what you do, somebody always imputes meaning into your books."
---
"Be awesome! Be a book nut!"
---
Dr.Seuss Love Quotes
"Don't cry because it's over, smile because it happened."


---

"Sometimes the questions are complicated and the answers are simple."


---

"To the world, you may be one person, but to one person you may be the world."


---

"Being crazy isn't enough."


---

"Only you can control your future."


---

"Think and wonder, wonder and think."


---

"How did it get so late so soon?"


---

"My trouble was I had a mind but I couldn't make it up!"


---

"Adults are just obsolete children and the hell with them."


---

"If you never did you should. These things are fun and fun is good."


---

"It's not about what it is, it's about what it can become." ― Dr. Seuss, The Lorax


---

"I like nonsense, it wakes up the brain cells. Fantasy is a necessary ingredient in living."


---

"A tree falls the way it leans. Be careful which way you lean."


---

"You know you're in love when you can't fall asleep because reality is finally better than your dreams."

---

"Think left and think right and think low and think high. Oh, the thinks you can think up if only you try!"


---

"I'm afraid that sometimes you'll play lonely games too. Games you can't win 'cause you'll play against you."


---

"I am the Lorax. I speak for the trees. I speak for the trees have no tongues."  Lorax Quote by Dr. Seuss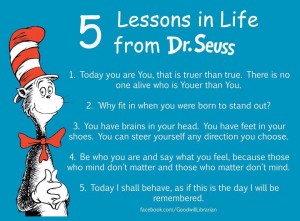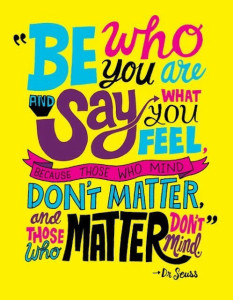 Dr. Seuss Quotes, Images, Wallpapers, Pictures